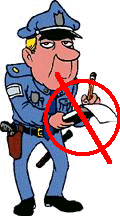 *Cite* Buster
"Cite"Buster Brought to you by former Police Officers.
Avoid Being Issued Citations and Fight Speeding Tickets Successfully!
Save Hundreds on Traffic Tickets!
Save Thousands on Insurance Premiums!
Save Your Drivers License!
Armed With This Vital Information You May . . .
Avoid Getting a Ticket Altogether!
Get Your Ticket Dismissed and Pay Nothing!
Get Your Ticket Fine Reduced!
Get a Guilty Verdict Put in Abeyance and Face No Penalties (by following set conditions)!
What is CiteBuster?
CiteBuster is a manual that was put together to give the average person a lookinto the what, why, and how behind traffic tickets and the traffic court system. After reading CiteBuster you should be able to know how and what to do to avoid getting a ticket altogether. If you do get a ticket it will give you the knowledge of how not to incriminate yourself to the Police Officer. It will also help you figure out waht facts about the situation are important enough to take pictures of and write down.
CiteBuster is there to give you the tools to help yourself. We are not against the Police. Actually we were Police Officers for several years. We do not advocate breaking the law in anyway.
From our experience, we know that sometimes people get citations they don't deserve or make mistakes. This manual will help them without paying a very big price in fines and insurance costs.
This 32 page Manual includes:
How to avoid a traffic ticket!
How radar, laser (lidar) and photo radar work!
Actual pages from a police training manual discussing the problems with radar!
How to avoid getting pulled over to begin with!
What to do and say when you are stopped!
When and why you should fight a ticket!
Objections to get the case thrown out!
What questions to ask of the cop after he testifies!
This is the complete manual. There will be nothing else to purchase. Any updates or aditions to the manual after purchase, will be sent to you at no cost,upon request. You get this for less then HALF the price of ONE Traffic Ticket $39.99
Comments from people who have purchased this product:
Oregon: Get this for your teenagers! This manual teaches common sense for safe driving as well as avoiding tickets. Something every young driver should read!
Connecticut: EZ-Deal, Excellent product, better then I expected. Quick Shipment!
California: Great Product!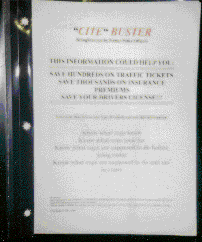 To order your copy now: Send Mail